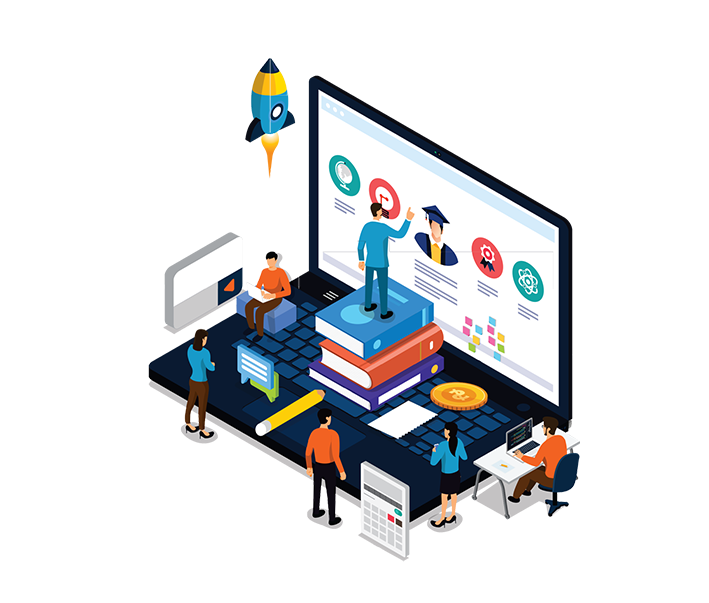 World-Class E-learning Platforms
It is time to take your learning online. We have the people, the knowledge and the tools, mixed with the right amount of creativity, to make this happen.

Learner Management
Moodle LMS – trusted by institutions, large and small and with over 200 million users across the globe, Moodle is a learning platform designed to provide educators with a single robust, secure and integrated system to create customised learning environments.
Designed to be responsive and accessible on both desktop and mobile devices.
Customised theme with your logo, colour schemes and much more.
Course development and management.
Classes can be instructor-led, self paced, blended or entirely online.
Work and learn together in forums, wikis, glossaries and much more.
Calendar of events to track course deadlines, group meetings, and other events.
+ more

Virtual Classrooms
BigBlueButton – an open-source web conferencing system with excellent integration with Moodle, enabling remote students to have a high-quality online learning experience. Some of the included features are as follows:
Communication via audio, video, chat, emojis.
Real-time presentation sharing (including whiteboard).
Real-time screen sharing.
Polling – question and answer capability.
Supports mobile devices.
+ more

Mobile Learning
The open-source Moodle application will be branded and compiled for Android and iOS. Using this app, learners can:
Browse the contents of their learning programmes, even when offine.
Search, request and register for access to new and available courses.
Connect with fellow course participants and educators via the integrated instant messenger.
Participate in forums and discussions.
Get notifications in real time from fellow course participants and educators.
Keep up to date with events.
+ more